The Kazakh people are rich in traditions and rituals. From birth to death, every step of their lives has historically been celebrated. Unfortunately, many traditions and customs of the Kazakh people have been forgotten throughout the past century. Due to Kazakhstan's commitment to Democracy, these abandoned traditions are just now being rediscovered by the Kazakh people.
Yurts:
The yurt is one of the most sensible types of housing for Kazakhstani people, who have been historically nomadic. They are easily built and taken apart, and the pieces can be moved by horses and camels without extraneous burden on the animals. There are three main elements of a yurt, being the base, the dome made of poles, and a round top. Kazakhs use felt to cover the yurt and for its internal decoration. They richly decorate their yurts with wall carpets and other tapestries.
Crafts - harnesses, felt mats, and articles made of wood, bone and metal – are lavishly decorated in Kazakhi culture. Headdresses, dresses, bags and saddle-cloths are beautifully embroidered. They use traditional designs and carvings to make and decorate the wooden cups, large bowls and ladles used to serve kumis. The horns of mountain rams and goats are used to decorate beds and caskets. Leather is used to make quivers, belts, harnesses and flasks for water and kumis. Kazakh artisans are also very skillful jewelers, favoring white silver and you can find traditional Kazakh bell-shaped earrings, original bracelets, or the traditional bracelet linked to three rings with fine chains.
Kazakh Clothing varies by regions. Men wear chapans, a kind of dressing gown with a belt, made of velvet and richly embroidered. They cover their heads with a soft skullcap (tobetai), a tall felt cap (kalpak) or a fox-fur hat with earflaps (malakai).  The women's national costume consists of a white cotton or colored silk dress, a velvet waistcoat with embroidery and a cap or a silk scarf. Elderly women wear a hood made of white cloth with a hole for the face (the kimeshek).
Kazakh Music and Musical Instruments: The Kazakhs love the art of wordplay and their akyns (poets), who improvise at public competitions  accompanied by Kazakh stringed musical instruments. The special role of music in the life of Kazakhs is reflected in many ancient myths and legends. There is hardly a match to these myths and legends, in terms of beauty and profundity, in Kazakh folklore. The Musical Instrument is accorded the highest category of the universe in the musical myths and legends, which are part and parcel of the traditional religious system. The Musical Instrument is considered to be the creator and the bearer of cosmic order, and the conductive medium of immaculate powers that harmoniously unify Cosmos, Nature and Man. The most popular musical instruments for traditional Kazakhi music are the Dombra and the Kobyz. Youtube has several examples of folk music from Kazakhstan.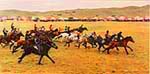 National Games: These are usually performed on horseback and are an opportunity to witness the Kazakhs' outstanding riding skills. Kazaksha kures (Kazakh wrestling), baiga (horse racing over 25, 50 or 100 km), kokpar (a sort of polo game played with a dead goat), kyz-kuu (catch the girl) and alty bakan (six-pole swing).